Moonglow - Interview Part II
Moonglow - Interview Part I
Mystery of a Blood Red Rose
March 18, 2016
LAST CHANCE TO CATCH THE SHOW IN GERMANY: BAMBERG & SAARBRÜCKEN!
Today the last few of over 4,000 tickets for Arena in Ludwigsburg have been sold. This means if you want to see the 3hrs GHOSTLIGHTS show, Bamberg (tomorrow, Saturday) & Saarbrücken (31st) are your last chances.
For Bamberg there will be enough tickets even if you just come to the box office, as the venue's capacity has now been extended to a total of approx. 7,000 people.
In summer Avantasia will return for a few festival shows - check the tourdates! News can be found at facebook.com/avantasia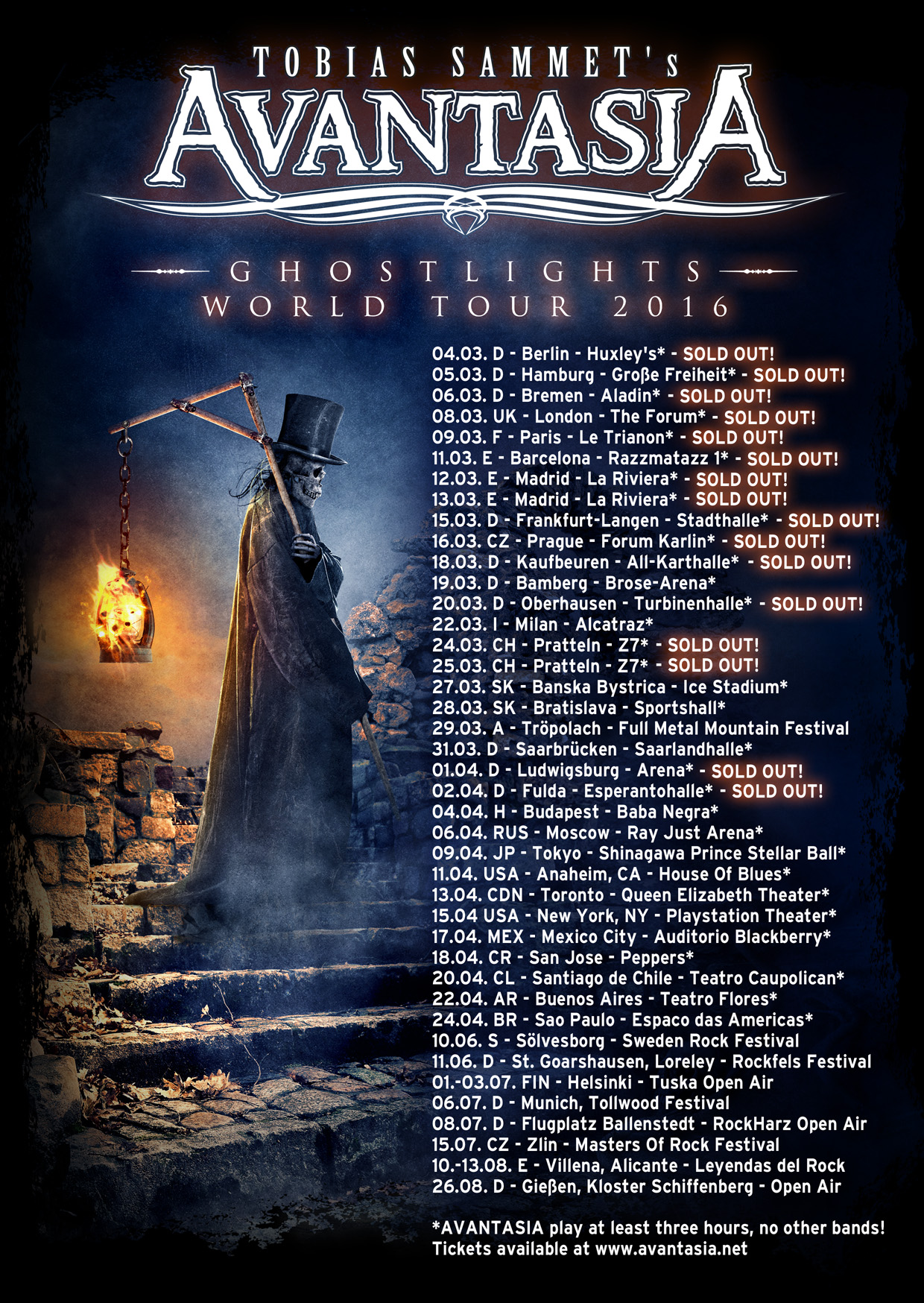 March 15, 2016
NEW SHOW ANNOUNCED - MORE DATES SOLD OUT!
After three sold out shows in Spain on the current GHOSTLIGHTS WORLD TOUR, due to popular demand AVANTASIA have been confirmed to headline LEYENDAS DEL ROCK FESTIVAL in Spain this year. The second show in Switzerland is sold out too now, for tomorrow's Prague show there are only few tickets left. The next show to sell out is going to be Arena in Ludwigsburg! If you want to see a show and don't have your ticket yet, you shouldn't wait, more shows are going to be sold out shortly!
If you want to join Tobias and Avantasia and take a look behind the scenes go to
www.facebook.com/avantasia
- there are some new videos and photos! Tourdates and tickets at
www.avantasia.net
!
March 11, 2016
AVANTASIA NOMINATED FOR AN "ECHO" AWARD
One week ago the Ghostlights World Tour 2016 started - five sold out shows in Germany, England and France. Now the band is about to face a total of more than 10 sold out concerts in a row. This weekend they'll play three shows in Spain, which no tickets are available for anymore. Next week they will return to Germany and the Czech Republic for some more sold out dates. Switzerland will be sold out 2x, and there are no tickets left for most of the other dates in Germany.
Meanwhile the band has been informed that they have been nominated for an Echo, the most prestigious award you can get from the German music industry. We'll keep you posted.
If you wanna see the show in Germany please be advised to get tickets for Saarbrücken or Bamberg which are still available at this point.
GHOSTLIGHTS WORLD TOUR 2016
04.03. D - Berlin - Huxley's* - SOLD OUT
05.03. D - Hamburg - Große Freiheit* - SOLD OUT
06.03. D - Bremen - Aladin* - SOLD OUT
08.03. UK - London - The Forum* - SOLD OUT
09.03. F - Paris - Le Trianon* - SOLD OUT
11.03. E - Barcelona - Razzmatazz 1* - SOLD OUT
12.03. E - Madrid - La Riviera* - SOLD OUT
13.03. E - Madrid - La Riviera* - SOLD OUT
15.03. D - Langen - Stadthalle* - SOLD OUT
16.03. CZ - Prague - Forum Karlin*
18.03. D - Kaufbeuren - All-Karthalle* - SOLD OUT
19.03. D - Bamberg - Brose-Arena*
20.03. D - Oberhausen - Turbinenhalle* - SOLD OUT
22.03. I - Milan - Alcatraz*
24.03. CH - Pratteln - Z7*
25.03. CH - Pratteln - Z7* - SOLD OUT
27.03. SK - Banska Bystrica - Ice Stadium*
28.03. SK - Bratislava - Sportshall*
29.03. A - Tröpolach - Full Metal Mountain Festival
31.03. D - Saarbrücken - Saarlandhalle*
01.04. D - Ludwigsburg - Arena*
02.04. D - Fulda - Esperantohalle* - SOLD OUT
04.04. H - Budapest - Baba Negra*
06.04. RUS - Moscow - Ray Just Arena*
09.04. JP - Tokyo - Shinagawa Prince Stellar Ball*
11.04. USA - Anaheim, CA - House Of Blues*
13.04. CDN - Toronto - Queen Elizabeth Theater*
15.04 USA - New York, NY - Playstation Theater*
17.04. MEX - Mexico City - Auditorio Blackberry*
18.04. CR - San Jose - Peppers*
20.04. CL - Santiago de Chile - Teatro Caupolican*
22.04. AR - Buenos Aires - Teatro Flores*
24.04. BR - Sao Paulo - Espaco das Americas*
08.-11.06. S - Sölvesborg - Sweden Rock Festival
01.-03.07. FIN - Helsinki - Tuska Open Air
06.07. D - Flugplatz Ballenstedt - RockHarz Open Air
*AVANTASIA play at least three hours, no other bands!

March 05, 2016
GHOSTLIGHTS WORLD TOUR HAS BEGUN
Yesterday AVANTASIA kicked off the Ghostlights World Tour with a sold out show in Berlin, Germany. And today - after Berlin, Hamburg, Fulda, Switzerland, 2x Madrid, Kaufbeuren and Oberhausen - BARCELONA and BREMEN sold out as well. For the second show in Switzerland, there are only very few tickets left and more shows will sell out shortly. If you want to see a show on this tour you better get your tickets soon! Check the
tour section
for availability.
March 04, 2016
GHOSTLIGHTS WORLD TOUR KICKS OFF TODAY!
Today, AVANTASIA's world tour kicks off in Berlin. Many shows are already sold out, and today, Oberhausen has been added to this list. More shows will sell out this weekend for sure - on the band's Facebook page, Tobias posted pictures of the new stage design and described it as the biggest stage production the band has ever had.
The new AVANTASIA album GHOSTLIGHTS has entered the charts in many countries all over the world. The album also reached a remarkable #16 on the UNITED WORLDWIDE ALBUM CHARTS. Tickets for the tour are available in the tour section.
<< Previous 1 2 3 4 5 6 7 8 9 10 11 12 13 14 15 16 17 18 19 20 21 22 23 24 25 26 27 28 29 30 31 32 33 34 35 36 37 38 39 40 41 42 43 44 45 46 47 Next >>